DIY: Driftwood Christmas Tree For those of you who live on the...
DIY: Driftwood Christmas Tree
For those of you who live on the coast a driftwood Christmas tree is a great sustainable alternative to a traditional tree. If you live inland you could subsitute sticks for pieces of driftwood.
What you will need to do:
Gather driftwood *brush off any loose sand, make sure wood is dry & collect different lengths of wood to give the impression of a traditional tree.
Gather potential pieces for a base or buy base for a Charlie Brown tree.
Buy a dowel (for the spine of the tree) but do so after you find all of the wood for the tree so you know how long it needs to be.
Use a hand drill with multiple drill bits (that are slightly larger than the width of your dowel).
Assembly:
Line up your wood by selecting the longest piece of driftwood and then select increasingly smaller pieces (see photo below).
Drill the thinner/ smaller pieces of driftwood at the top of the tree to the exact size as the dowel, these pieces are easier to finagle with a tight fit. If the dowel starts to stick in the driftwood make the hole slightly larger by maneuvering the drill around in a circular motion.
Once you configure the wood for the tree selected a "trunk" and insert the dowel.
Decorate and we like to put up a tree on the Christmas Eve and leave up for the 12 Days of Christmas.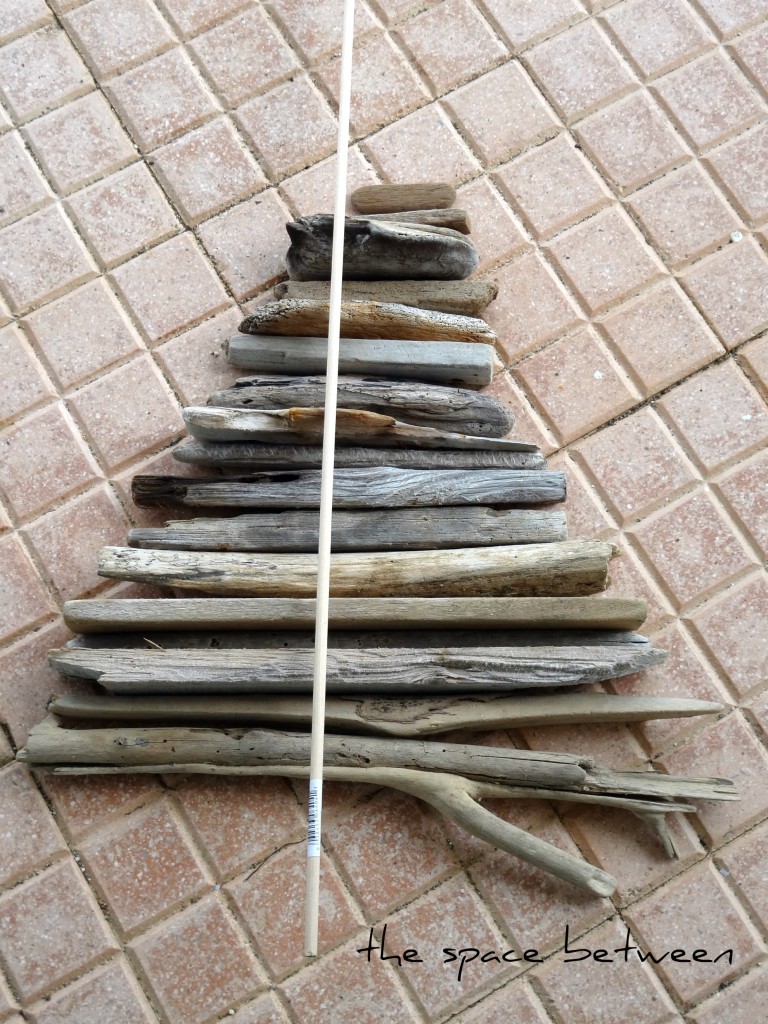 Thanks to The Space Between for this.